What's the Best Identity Theft Protection Roller Stamp?
Identity theft is one of the fastest growing types of crime. Millions fall victim each year, and in the age of the Internet, it's becoming more of an issue. The good news is that protecting yourself from identity theft isn't difficult or complex. All it requires is a few common sense precautions.
Understanding Identity Theft
But first, one thing you have to understand. The way most online hacking happens is actually rather low-tech. Someone calls a customer service line with some fragment of your personal information. It might be your street address, old passwords, or user name. Using those bits of information, the caller then tricks a customer service agent into revealing more information about you.
And that's all it takes. Little bits of seemingly harmless information can be extremely dangerous in the wrong hands. What are your options? One solution is using a pen. We've all tried scribbling over documents with pens before. And we all know it works… if you've got the right pen, and you're willing to stand there and scribble until your wrist aches.
Stamping is a much simpler solution. Used properly, identity theft protection roller stamps are exceptionally effective at helping you protect your identity from criminals. From your junk mail to personal documents, finding a decent identity theft protection roller stamp can protect you from many of the most common identity theft concerns
Choosing an Identity Theft Protection Roller Stamp
Choosing a great identity theft protection roller stamp is largely about knowing how to avoid getting a useless knockoff, and how to avoid getting nickel-and-dimed with refills. But you also need to know what types of documents you'll wanting to stamp across, especially if they're non-traditional media or glossy media. And you're going to want to think how long you need to use the roller stamp, and how many rolls you'll be able to get from one stamp.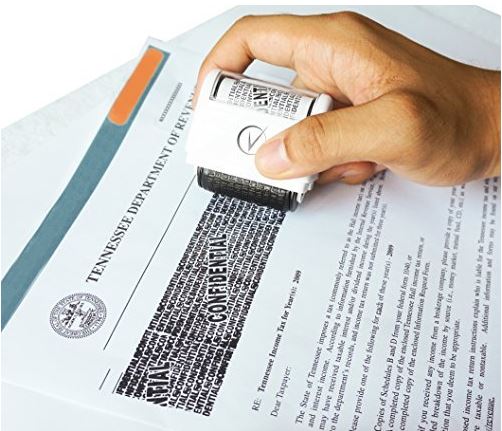 Privacy Protection
Your first and foremost concern is whether or not the stamp can actually protect your stuff, which is largely a matter of having the right ink. Cheap water-based inks will generally get the job done, but they also bleed through your documents. And they may be susceptible to removal under some circumstances. However, they're a good choice for people who are looking for something cheap and simple.
Oil based inks don't have the same type of bleeding problems. They tend to be marginally more expensive with respect to refills, but provide the widest depth of protection for the information underneath. They're essentially impossible to remove from your documents.
Lasting Power
How long can the stamp roll before it runs out of ink? For any of the best identity theft protection roller stamps, you should expect at least 100-feet of stamp for any purchase. That's enough to take on hundreds or thousands of documents, depending on the size of the area that you want to protect from identity theft.
Stamp Sizing
If you're trying to roll over a 1.3-inch block of address text, then you don't want to be using a 1.5-inch identity theft protection roller stamp. The seemingly small difference is actually wasteful of ink, and that waste can cumulate rapidly. Likewise, if you're trying to roll over 2-inches of text, you don't want to be using a 1-inch roller. But that's simply about making effective use of your time.
Often times, identity theft protection roller stamps are constructed with fixed sizing. That being the case, you'll want to think about the most effective size of the stamp for your own documents. Alternatively, some identity theft protection roller stamps provide the ability to make small adjustments to the sizing roller. Adjustable rollers are generally a more convenient option, though fixed-size rollers have their own merits, as we'll see in a moment.